Legendary builder status doesn't just fall into your lap after following a set list of steps. There's no how-to book. No exact formula. In the case of Donnie Smith, it was a journey that required hard work, ingenuity, working with good people and simply being in the right place at the right time. The article Before Kustom Kulture was King: Tracing the Roots of Custom Biking written by Marilyn Stemp for the Sturgis Rider News Blog shares many of the early events that led Donnie to today.
Motorcycles weren't Donnie's first choice. It was his Uncle Elwood that got him involved in the custom bike world. One day in the early '70s Elwood brought his Sportster into the drag race shop Donnie ran with his brother Happy and friend Bob Fetrow. Uncle Elwood wanted them to rake the bike's neck, but, at the time, Donnie didn't even know what that meant.
"We were three farm kids; we thought rake was something you did with hay," said Donnie.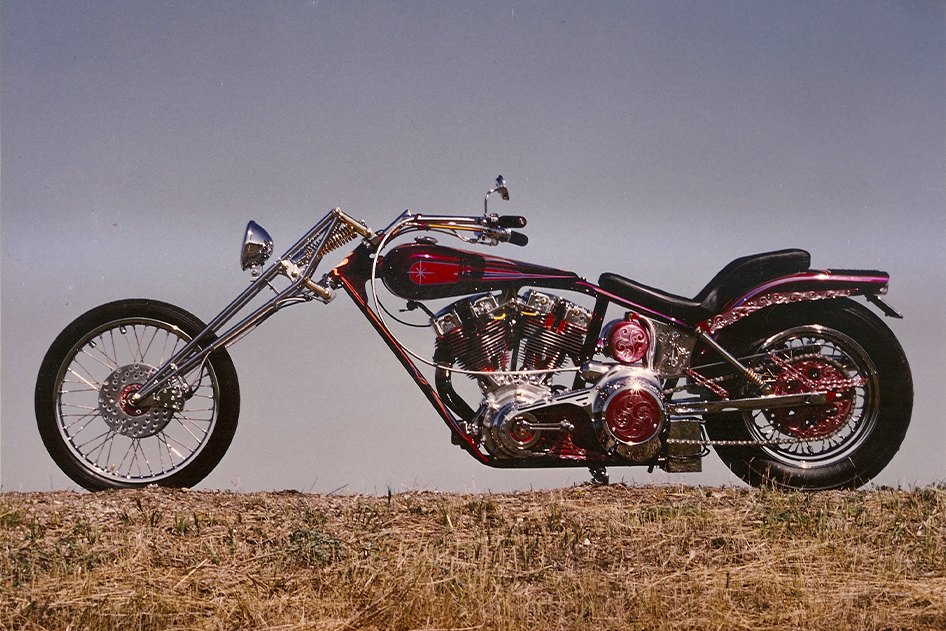 Although the Smith Brothers and Fetrow had their hands full, holding down day jobs and working in the shop on the Barracuda Funny Car they planned to race, they did their best for Elwood.
Soon, word spread, and the shop started landing more custom bike work. When the shop's bookkeeper pointed out they could make a living off motorcycles if they got rid of the racecar, they jumped on it.
"If you had a motorcycle business then, the way to get noticed—the only way—was to have your bikes featured in magazines," the original article states. And Donnie explained how the shop first got hooked up: "The first guy that ever shot our bikes was Randy Smith from CCE. He was doing freelance for magazines in 1974. We met him in Bowling Green, and he shot the bikes we were riding there. We were on cloud nine."
The following Spring SB&F took a few bikes to Detroit for the "It's Called Detroit" show, and it was here that Donnie first saw Arlen Ness. Although they didn't meet until later at Tom Rudd's Drag Specialties show in Minneapolis, both of them met east coast painter Dave Perewitz in Detroit. It wasn't long before the three became best friends.
If you've got an appreciation for custom motorcycling, you can thank the Smith, Ness and Perewitz rapport for establishing it in America and holding true to a passion for the subject continues to sustain it. To find out more about the successes of these iconic custom builders, be sure to read Before Kustom Kulture was King: Tracing the Roots of Custom Biking.
To see the Donnie Smith and Dave Perewitz's work in person, and even get the chance to rub elbow with them, don't miss the 31st annual Donnie Smith Bike & Car Show on March 24 and 25 and the St. Paul RiverCentre. Reserve your passes online or get them at the door!