The official motorcycle tire of the 2018 31st Annual Dennis Kirk Donnie Smith Bike Show & Car Show Parts Extravaganza brings you the Metzeler Custom Lounge, a cool gathering place for moto-celebrities, builders and attendees.
The 880er Premium line dedicated to cruiser and heavy touring bikes. Also available in Alpha Sizes
Radial and bias-ply replacement sizes for the '09-10 Harley-Davidson Fat Boy and FLH Touring family
Soft compound for high grip allowing to exploit great torque output with total control
Machine-specific carcass construction for exceptional riding comfort and stability at all speeds, even under heavy load
Tread pattern design with offset central groove's alignment providing very high mileage for never-ending riding fun
It's About the Technology – Steel Radial Tire


Innovative belt structure with a single ply of steel cords wrapped around a radial carcass at 0°. Patented high performance technology by Metzeler for both front and rear tyres.
Steel features a higher stiffness than textile and this allows the reduction of the tyre weight. Steel radial belt reduces the dynamic deformation of the tyre under centrifugal forces giving the tyre an excellent high-speed stability. Thanks to the more uniform heat distribution, mileage is increased and wear characteristics are more uniform. Meaning – it's a great tire with outstanding performance.
About Pat Patterson of Led Sled Customs
Meet Pat Patterson of Led Sled Customs and Mike and Pete Muller of Federal Moto, plus check out their Metzeler-equipped cus-toms — exclusively at the Metzeler Custom Lounge.
Meet Pat Patterson of Led Sled Customs at Donnie Smith Metzeler Custom Lounge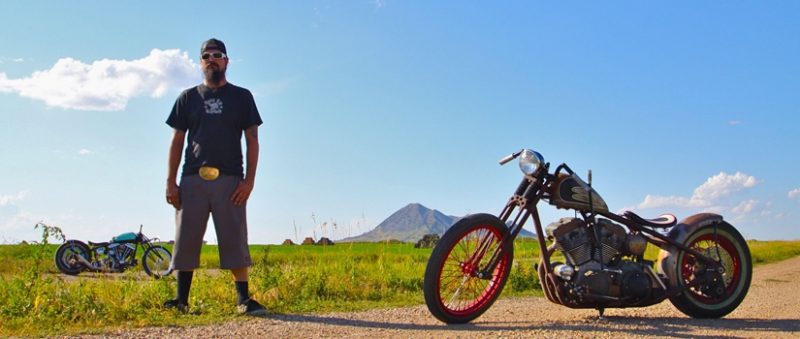 Pat Patterson has risen to the top of the customer motorcycle world with his skills and eye for design. Pat thrives in the Sportster market with his custom bikes, complete product line and unique approach to style. Pat and Led Sled Customs have separated themselves and continue to plow a path for the new generation of bike builders.
Led Sled Customs has been featured in nearly every major motorcycle publication in the world with their custom builds. Pat has also led the way in the custom Sportster components and modifications. For the last decade, Pat has focused his attention on the overlooked Sportster market, chopped it up, rebuilt it, and stamped his style all over it.