If you love riding motorcycles, you probably agree that the best part about winter is when it's over. And for those of us in the Midwest, there's no better way to give Old Man Winter that final kick out the door than to hit up the Donnie Smith Bike and Car Show presented by Dennis Kirk at the Saint Paul RiverCentre.
After a season that introduced us to the polar vortex and the bomb cyclone, it seemed every bike and car enthusiast within 500 miles of the Twin Cities was at this year's show on March 23 and 24, ready to reclaim some fun in their lives.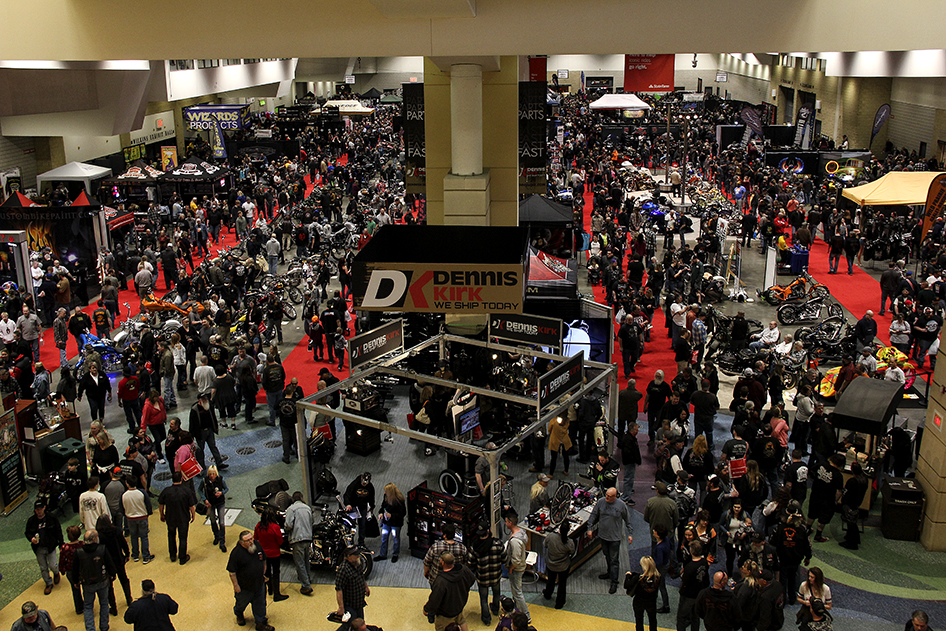 As usual, the show was a lot to take in, with attendees roaming the exhibit halls like kids in a candy store. After watching everyone drool over the entries, find treasure at the parts swap and meet some of the biggest names in the industry, here were some of the bikes, cars and moments that stood out to us.
The Loss of a Legend
As soon as the show opened Saturday morning and attendees started to pour in, it didn't take long for word to spread that the world of custom motorcycles had lost its king, Arlen Ness, just the night before.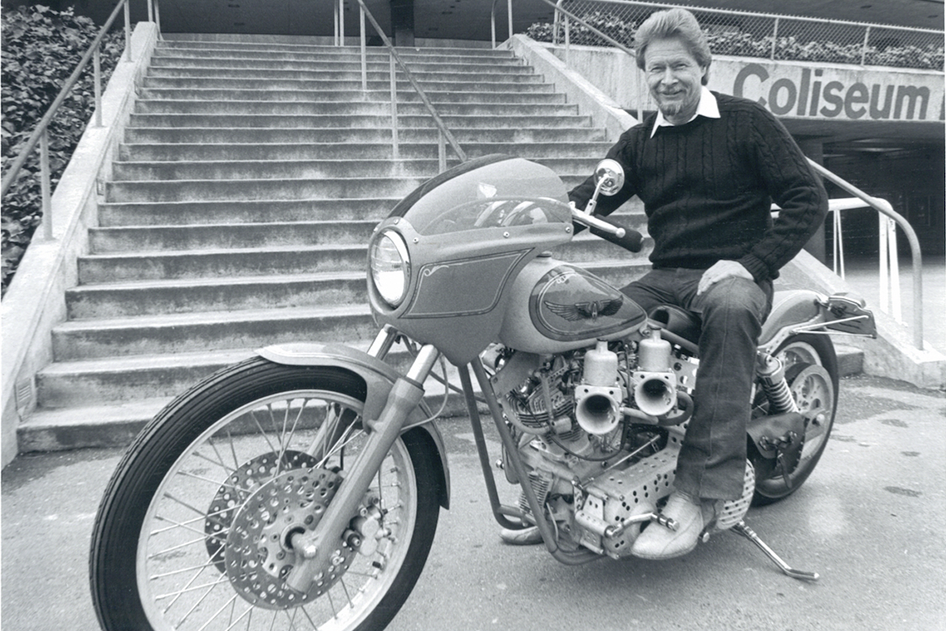 To the Donnie Smith Show family, Arlen Ness was many things—a hard worker, a creative genius, and a fellow Hamster—but above all else, he was our dear friend.
Losing Arlen the night before an event in which he has been so engrained wasn't easy, but in a strange sense, the show acted as a gathering that held his spirit. Spending two days surrounded by some of the people who knew him best allowed us to recount old stories, laugh, cry and celebrate his remarkable time on this earth.
Rest in peace, buddy.
TJ Design Unveil
A huge crowd gathered around the TJ Design booth Saturday morning to see TJ Hilgers unveil a fully custom Harley he created for his wife Lizzy. The project initially began as a gift for her, but after she was diagnosed with a terminal illness, TJ decided to make it into a memorial to her, filled with things that she loved.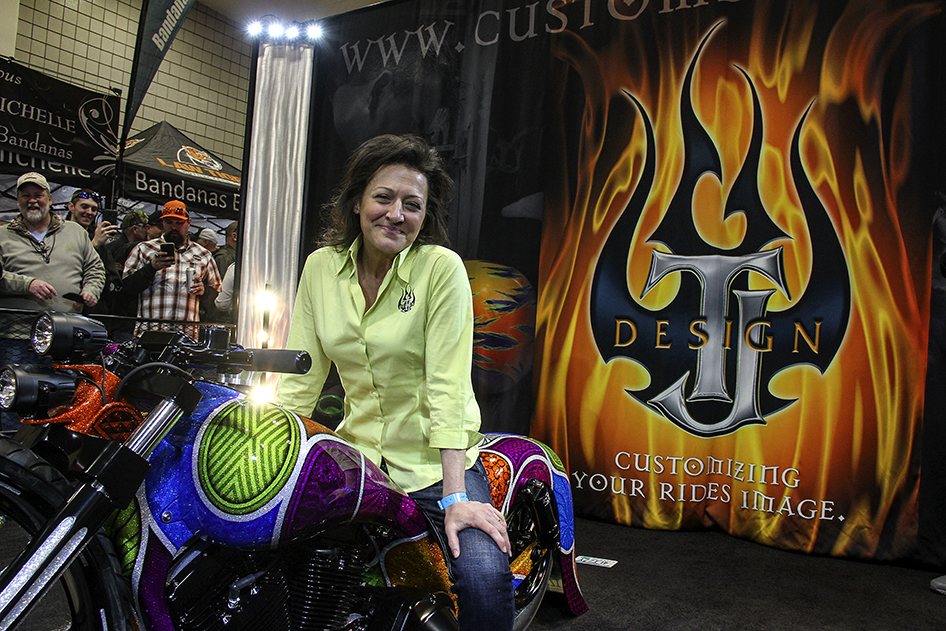 TJ never expected Lizzy would see the bike completed, let alone that she would beat the odds. When she miraculously recovered, he decided to give it to her during the unveil at the show.
The judges were just as impressed as the crowd and Lizzy to see this bike. It took home 1st place in the Modified EVO/Twin Cam class.
Pro-Class Bikes
Builders in the pro class were out to impress this year and left our judges with some super tough decisions to make.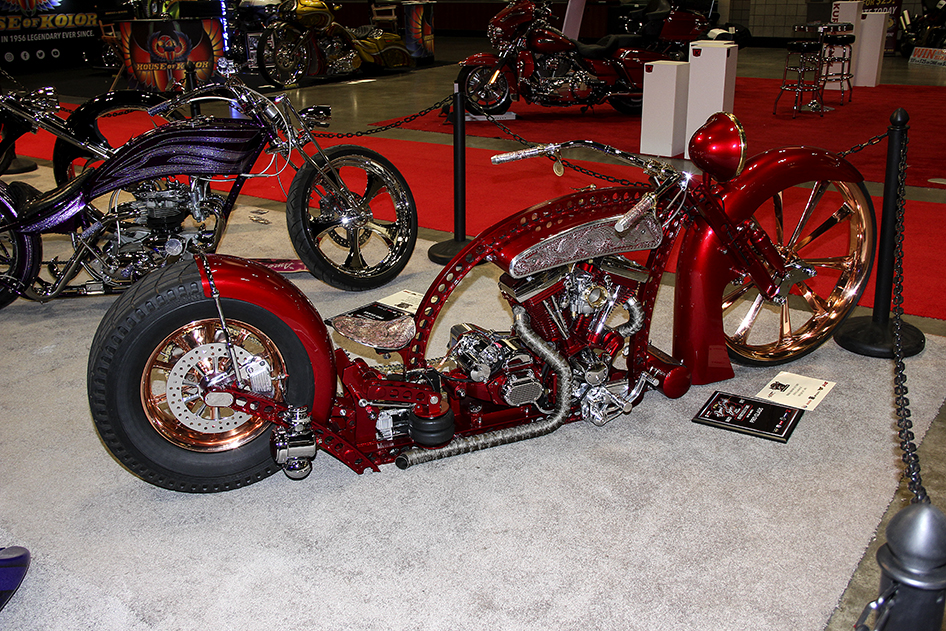 As soon as you hit the pro carpet, you couldn't help but get drawn in by "Ruby" from PJ's Garage. The longer you looked, the more cool aspects there were to notice—intriguing Mayan theme, copper wheels, brass risers and controls, the bezel on the light, and whoa, is that a truck tire on the back?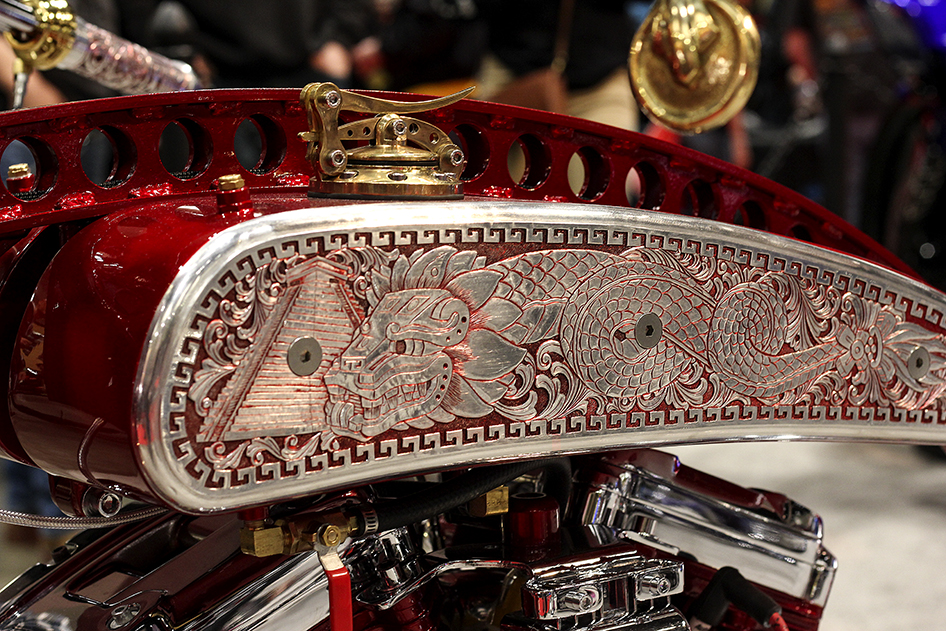 It was no surprise the judges awarded it 1st place pro class custom.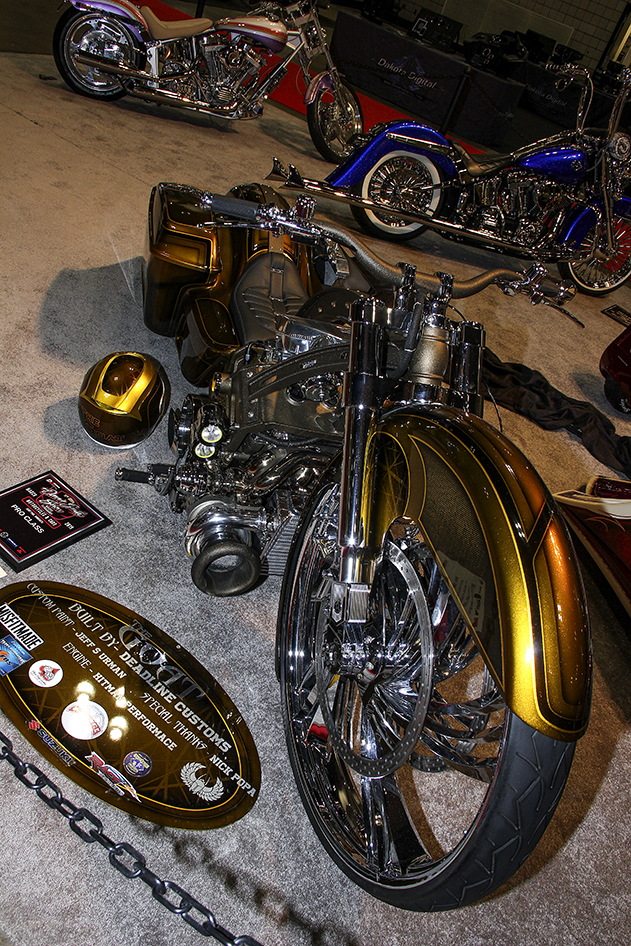 This wasn't the first time we'd seen "The Goat" from Dana Halberg of Deadline Customs at the show, but sometimes love is sweeter the second time around.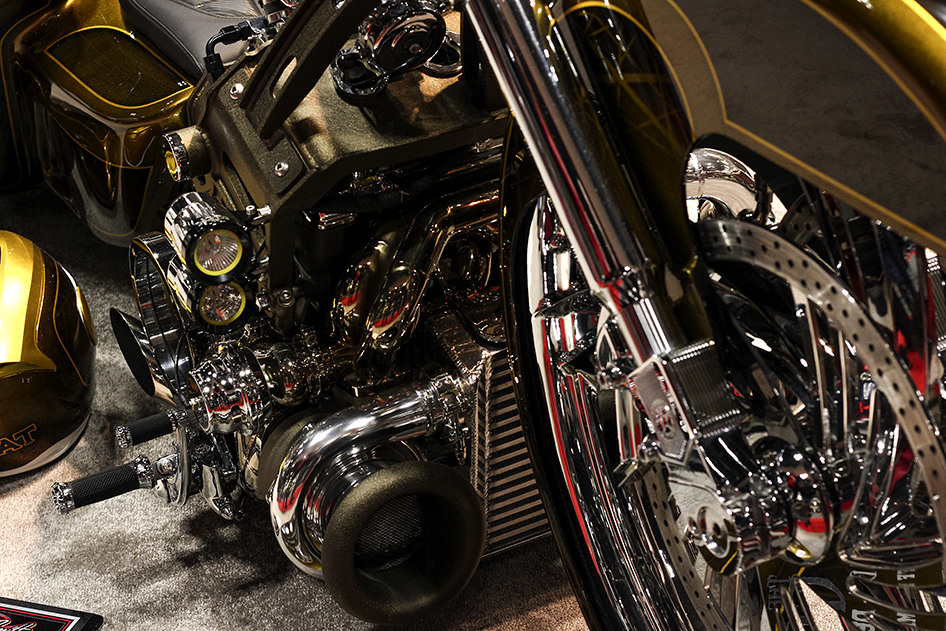 The whopping 150+ custom parts, Hayabusa mill and big ol' Garrett Turbo had us at hello during the 2018 show, so we were happy to have it return in 2019, along with its new matching helmet. It took home Baddest Bagger 1st place.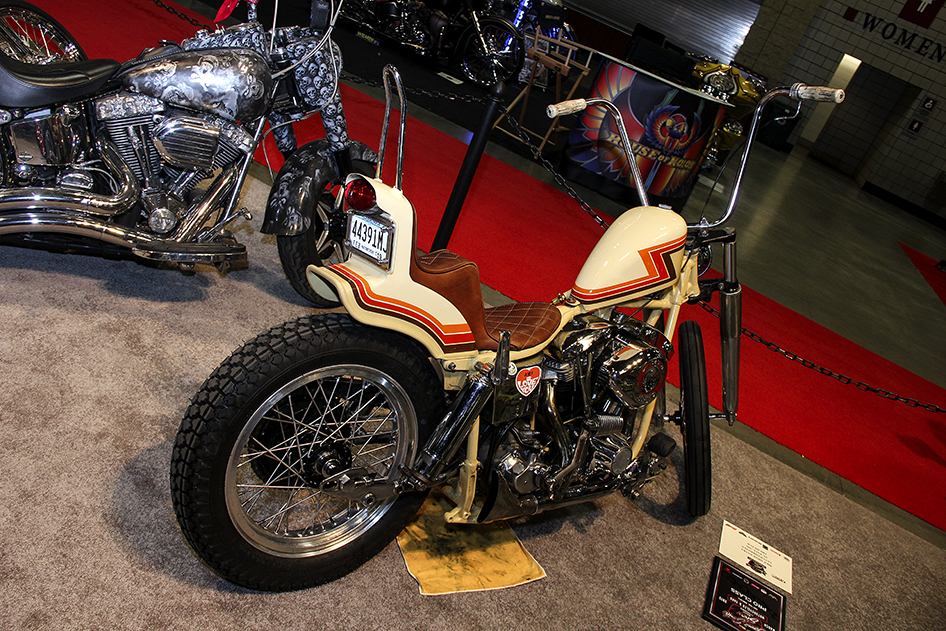 We dare you to try to find a cooler looking '81 FLH than this retro chopper Levi Dambroten brought to the show.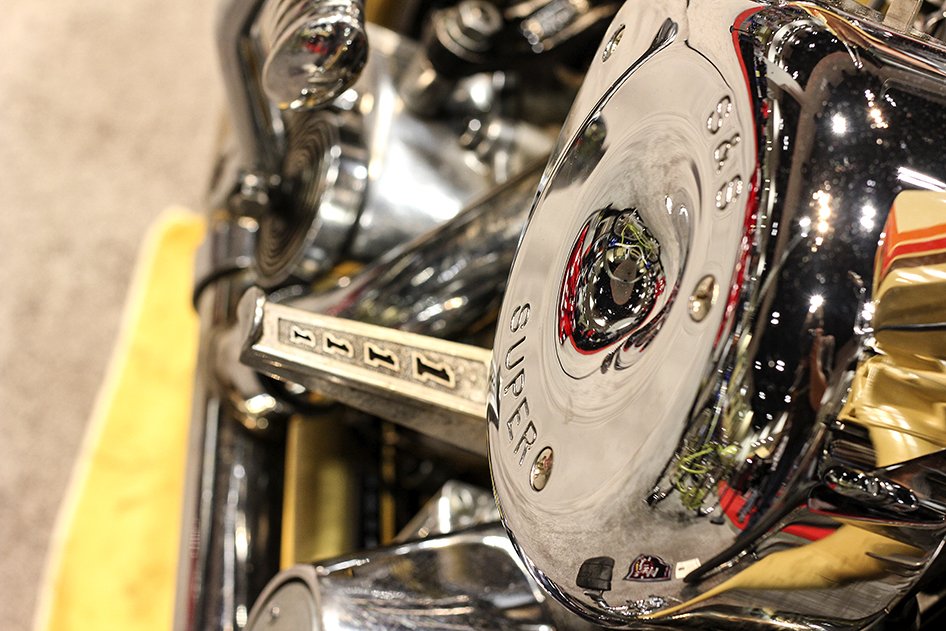 We really dug the chopped back fishtail exhaust, Crazy Frank Style fender and the little HD 1 emblems cut into the pegs.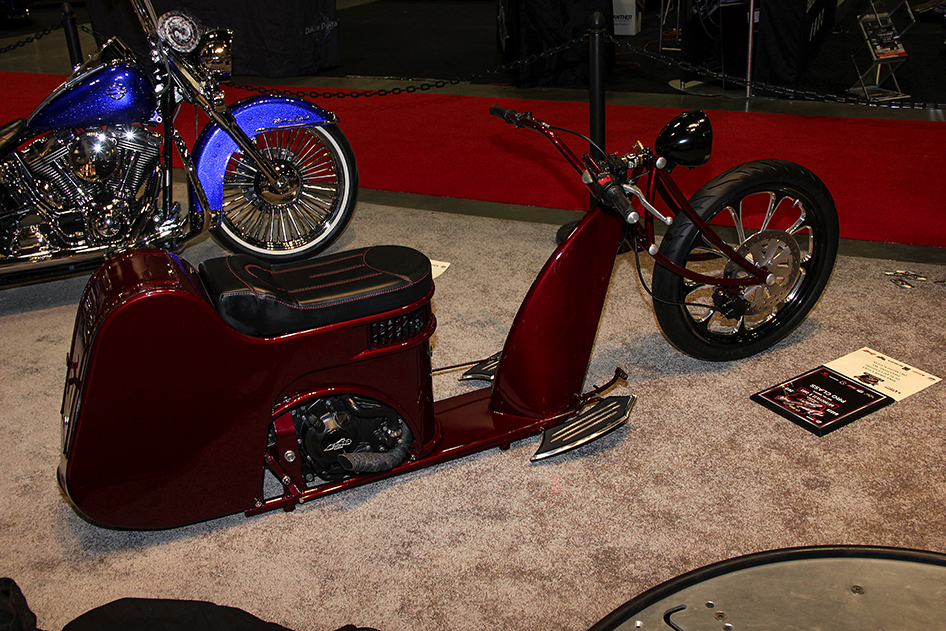 Half scooter and half lowrider, it's safe to say the 1947 Moto Scotte that Outlaw Customs brought to the show was like nothing most had seen before.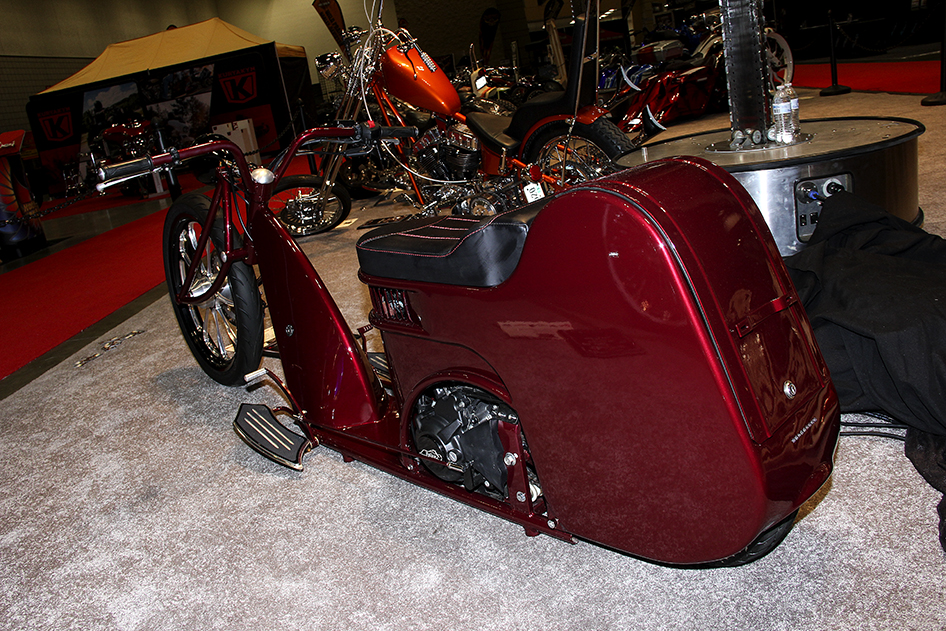 You could haul a lot of junk in this trunk. The sleek custom-fab rear kept the motor exposed while concealing the rear hydraulics and the 11" Hoosier dirt oval kart tire.
Friends & Fun
It was practically impossible to walk the show floor without running into familiar faces from the industry or friends who you hadn't seen since winter hibernation started.
Rock and roll! Here's Rod Woodruff from the Sturgis Buffalo Chip and the Jasmine Cain band.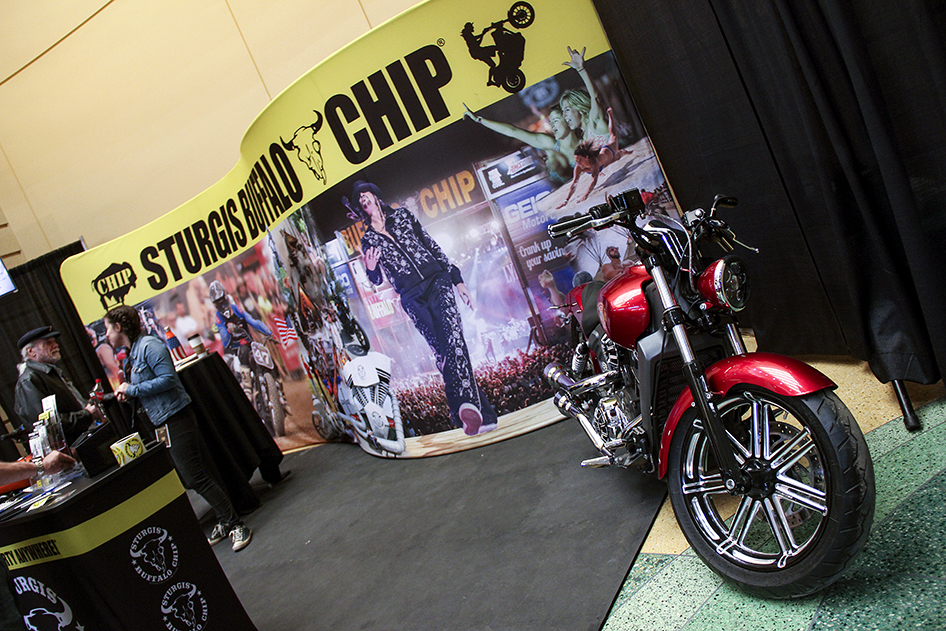 Those eager to kick off riding season seemed just as excited to plan its grand finale this August at the Sturgis Buffalo Chip. While learning about the Largest Music Festival in Motorcycling, plenty of you dropped your name in the hat to win the custom Scout and Street Rod the Chip will be giving away this August.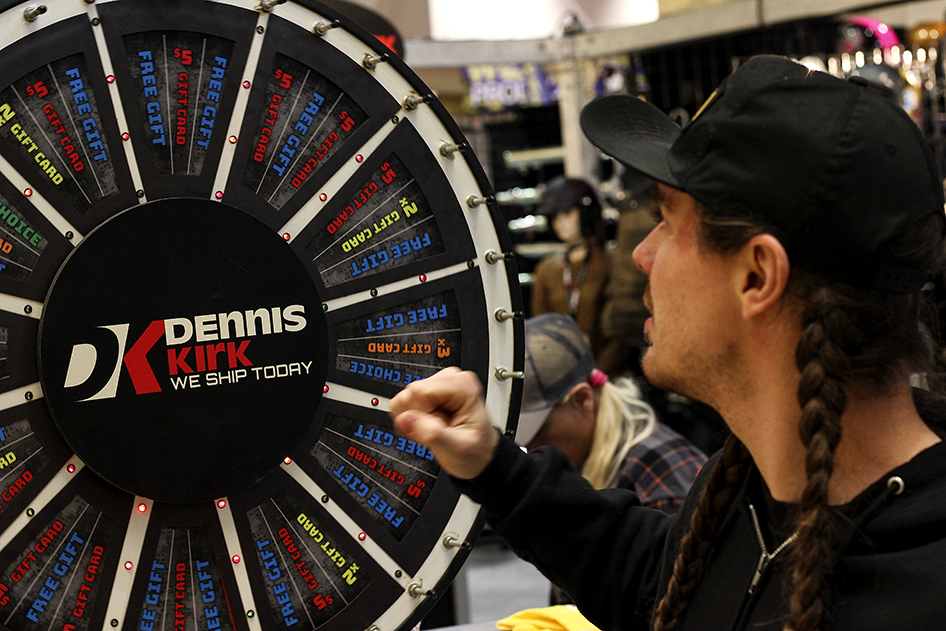 There were cool prizes and free money to win over at the Dennis Kirk display as well, and plenty were ready to step on up to try their luck.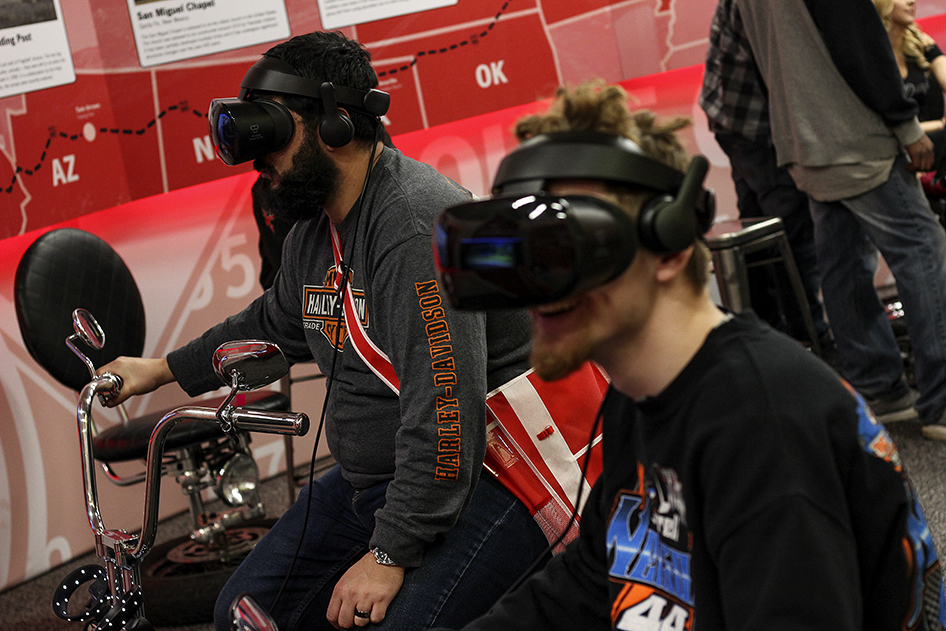 For most of the show, a long line stretched out of the State Farm display with loads of people waiting to take a virtual tour down Route 66 and get their own custom street sign made.
Open Class
No matter your taste, there were bikes for everyone in the open class, ranging from big-wheeled baggers to mini bikes and antique restos to futuristic builds.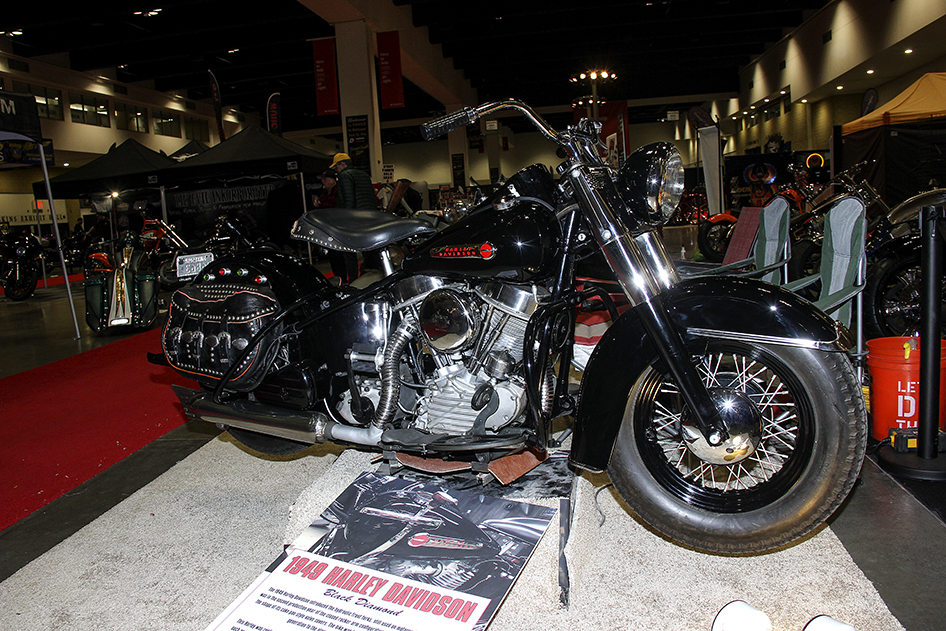 You can always count on Greg Lew's panheads coming with a story, and this 1949 Harley FL certainly was no exception. It was restored to exact specifications, which included many one- and two-year-only accessories that are incredibly difficult to find.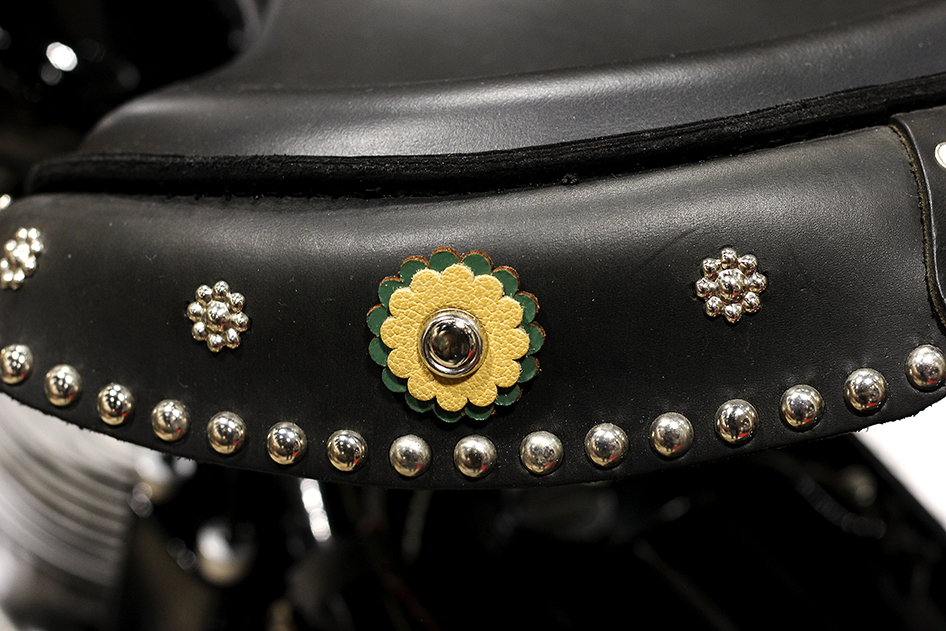 As usual, Greg paid close attention to every last detail. Among other parts, he tracked down nipple style fork nut covers, Western-style saddlebags and a ton of accessories including the leather rosettes whose color indicated the model year range. All the effort earned the bike a well-deserved title of Best Antique.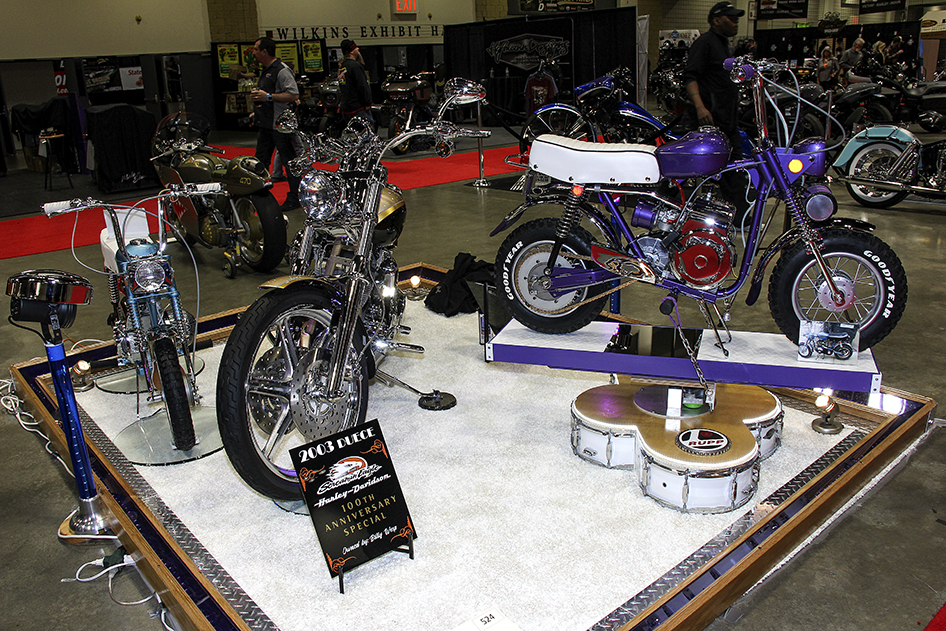 Billy Wesp's set up for his 2003 HD Deuce and Rupp Roadsters stopped many dead in their tracks, including the judges who awarded it Best Display.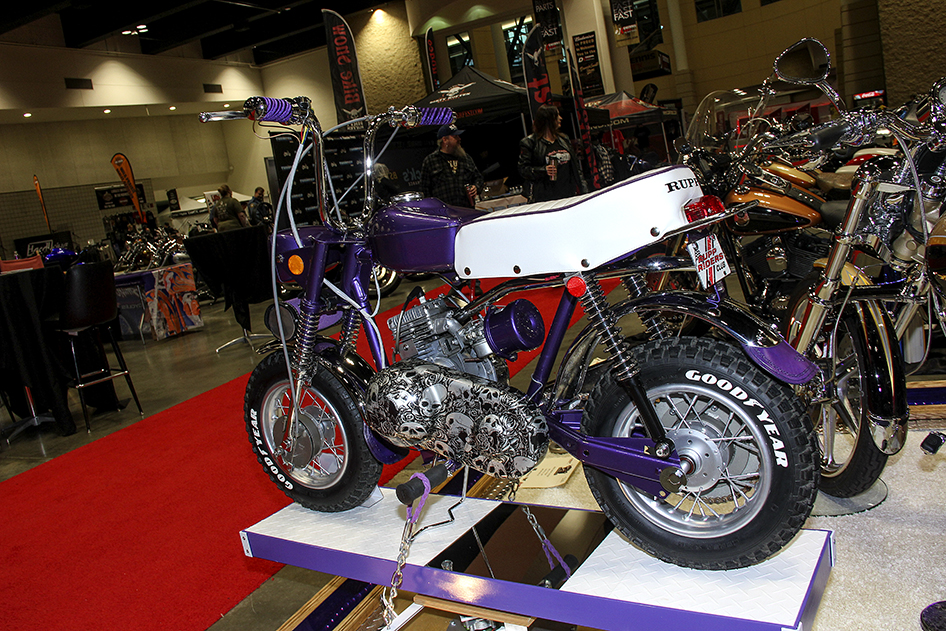 You just couldn't help but smile checking out the purple 1970 Roadster up on its revolving platform that had a base made out of snare drums. Small in size with a Tecumseh 4-horse motor, this mini bike was pretty big on detail with a 1920 Plymouth Plum Crazy paint job, stingray fork bag and mud flaps, and a hydro-dipped torque converter with skulls and flowers.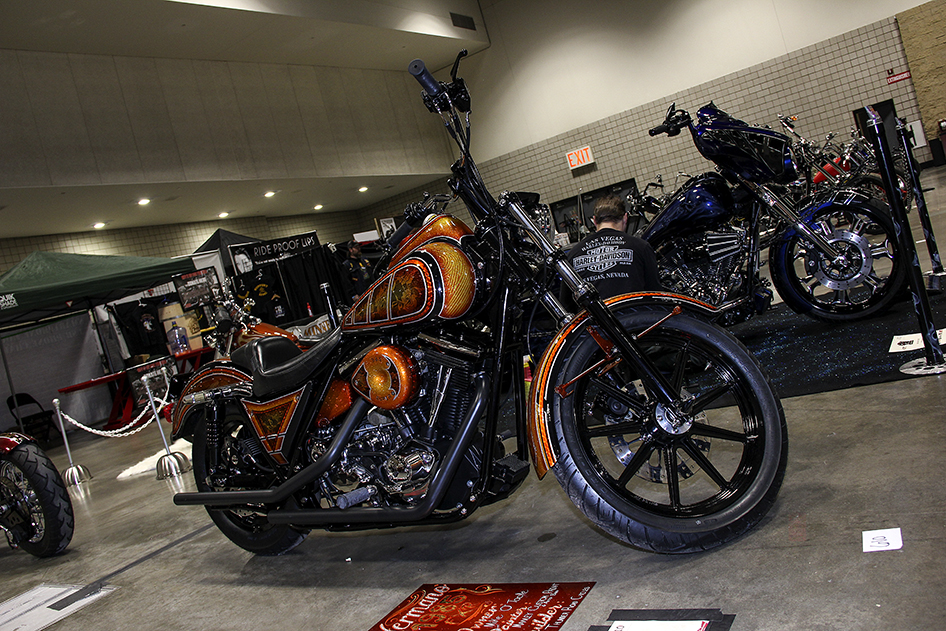 The paint job on Joseph Manley's '85 FXR drew us in from a mile away, and it only got better as we got closer. The gold and orange glitter bomb paint, pinstripes, gold leaf, and lace overlay really popped next to the murdered out engine, pipes, and wheels.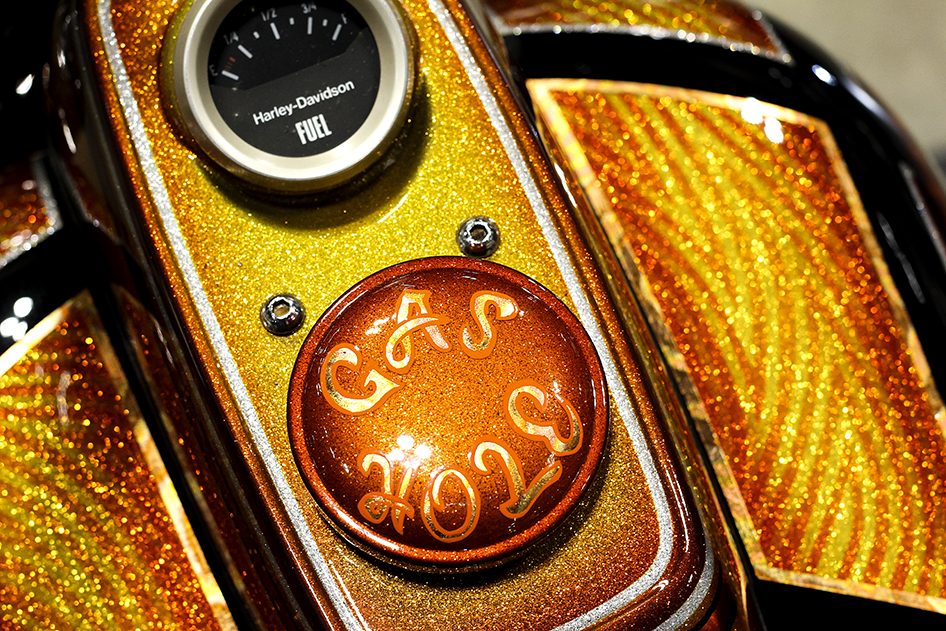 "Hermano" brought home 1st in the EVO/Twin Cam Dyna Class. Awesome job, Gas Hole.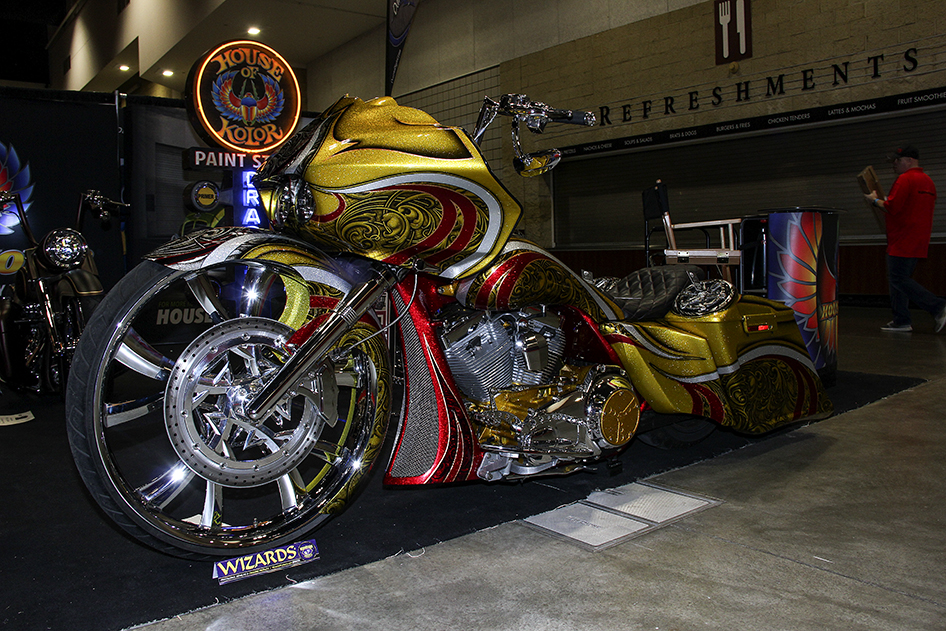 Of course, there was even MORE beautiful paint to behold in the House of Kolor display, including this top-to-bottom-painted 2013 Roadglide from Kory Souza that won the award for Best Paint.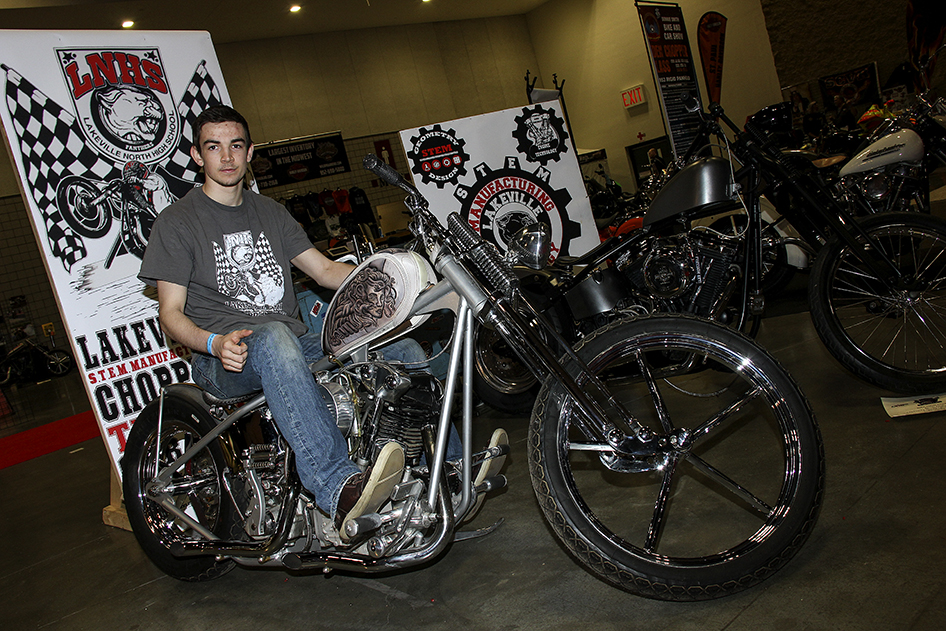 Kevin "Teach" Baas and his Lakeview High School Chopper Class built this incredible chop especially for the Buffalo Chip's 2018 Motorcycles As Art Exhibition, Passion Built, where it dropped jaws of countless Sturgis Rally attendees.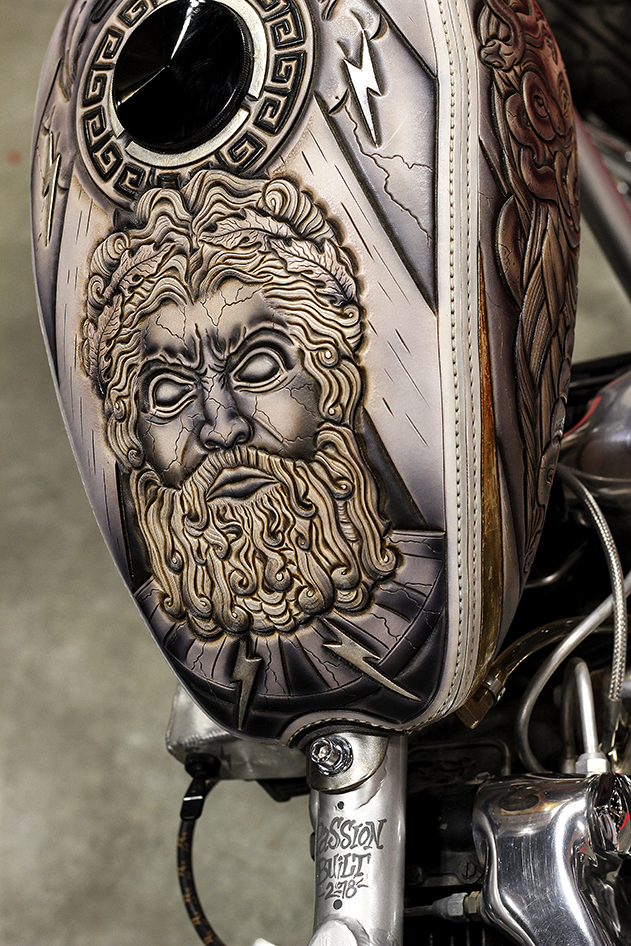 It featured a Sugar Bear front end, custom braided electrical, and this super unique Zeus design crafted in leather with gold leaf gilding.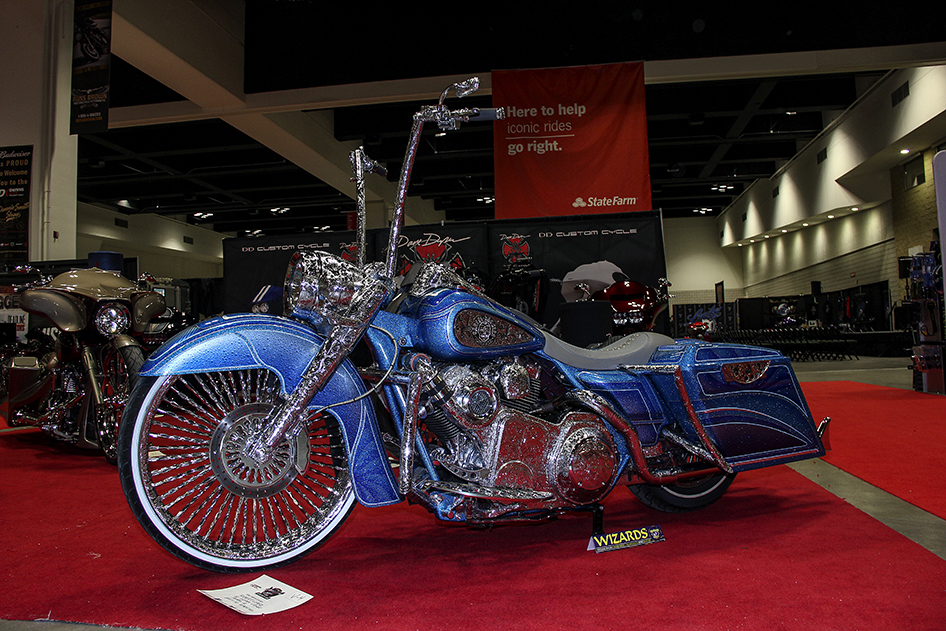 This engraved king in the DD Custom Cycles display broke its fair share of necks over the course of two days.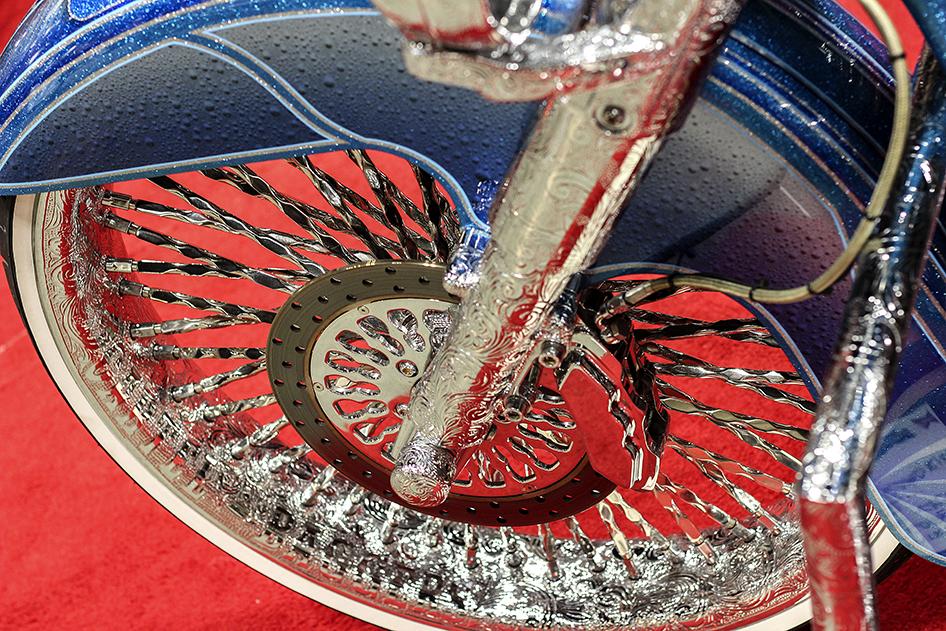 Absolutely everything that could be engraved had been to the finest detail. The combination of the water drop paint job, twisted spokes, and engraved forks and wheels was absolutely show-stopping. It's easy to see why the judges awarded it Best Custom.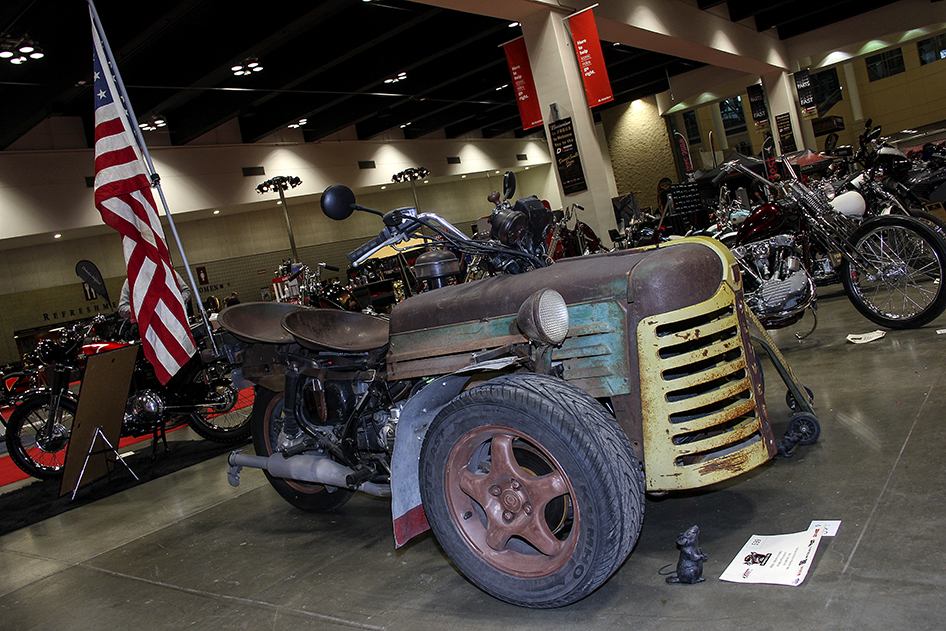 On the absolute opposite end of the custom spectrum was Mark Pullman's unlikely mashup of a 1981 Goldwing, a Mazda Miata and a 1951 Model 66 Oliver tractor that won 1st place Rat.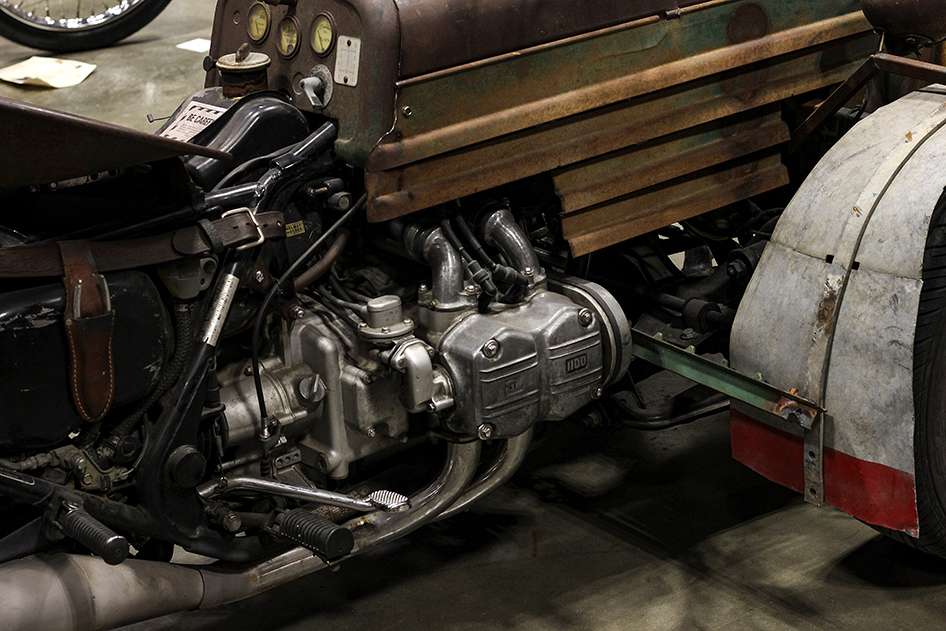 Many of its features looked as though they'd come straight from the farm, including its "NO TRESPASSING" warnings, pliers holster and windmill blade fenders supported by "T" fence posts.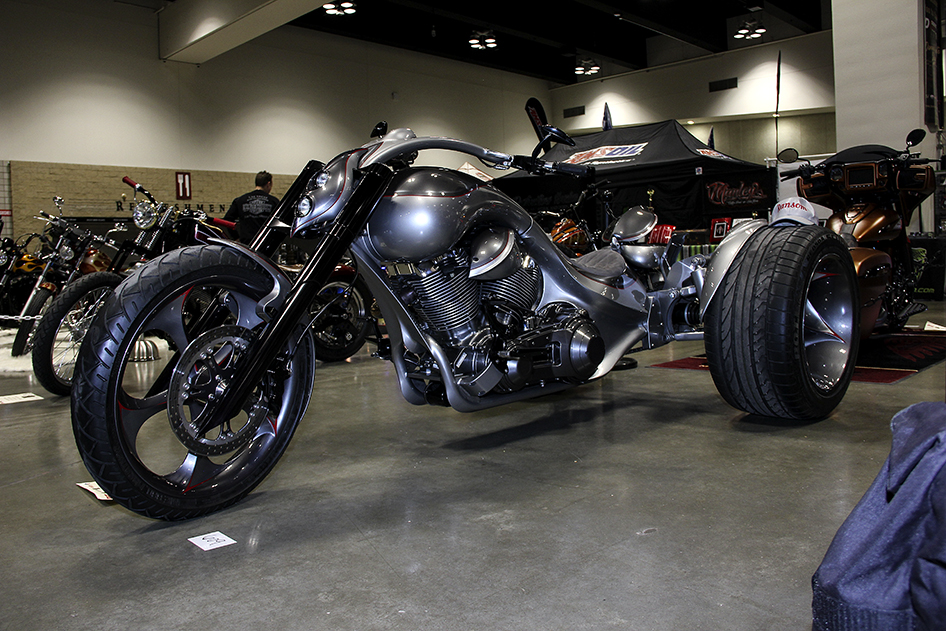 It was fun to watch folks marvel over Herb Cowart's futuristic-looking Ransom MS Trike that took home 1st place in the Trike Class.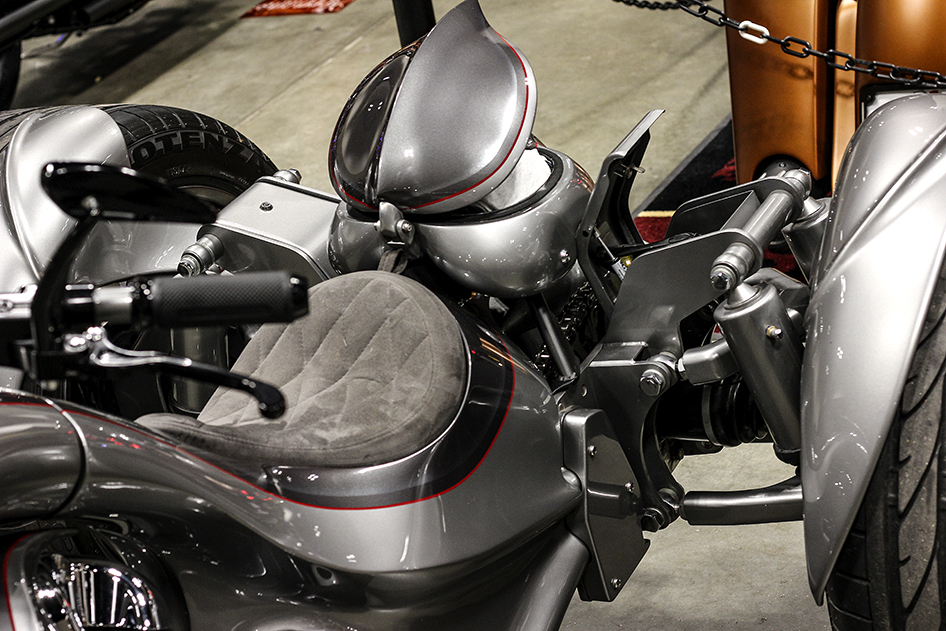 The rear was a fascinating study in and of itself, with its independent rear wheel suspension, custom fenders and two concealed carry stash boxes.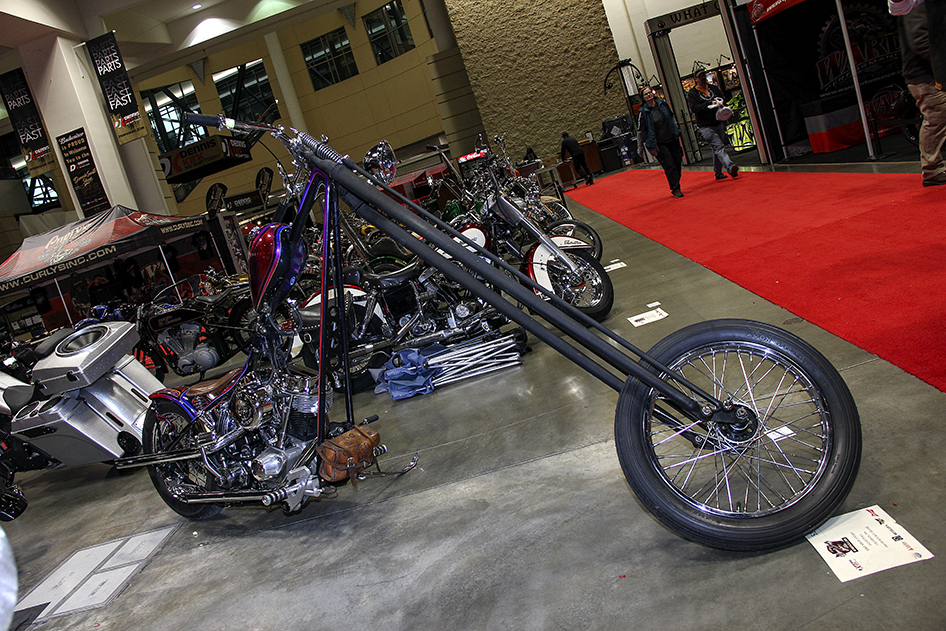 Wowza. There was no questioning why Dave Pyka's bike won 1st in the Panhead with Long Fork Class.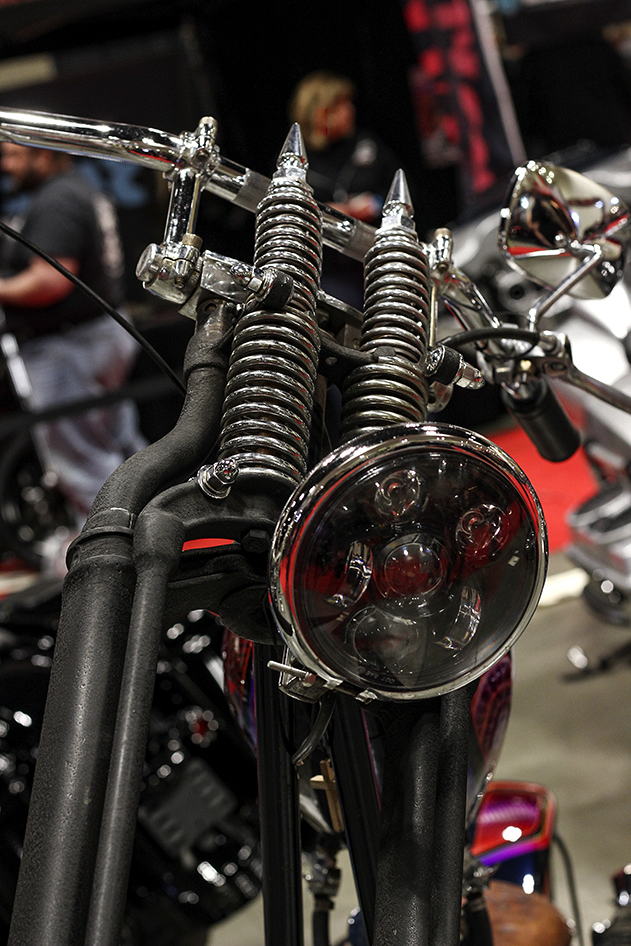 As it turns out, a Ford truck axle matched up perfectly with this bike's forks, so they welded them right together.
Parts Extravaganza
After getting enough inspiration to fuel a lifetime of garage tinkering, the sprawling parts swap was a great way to track down the needed parts and tools to complete the job.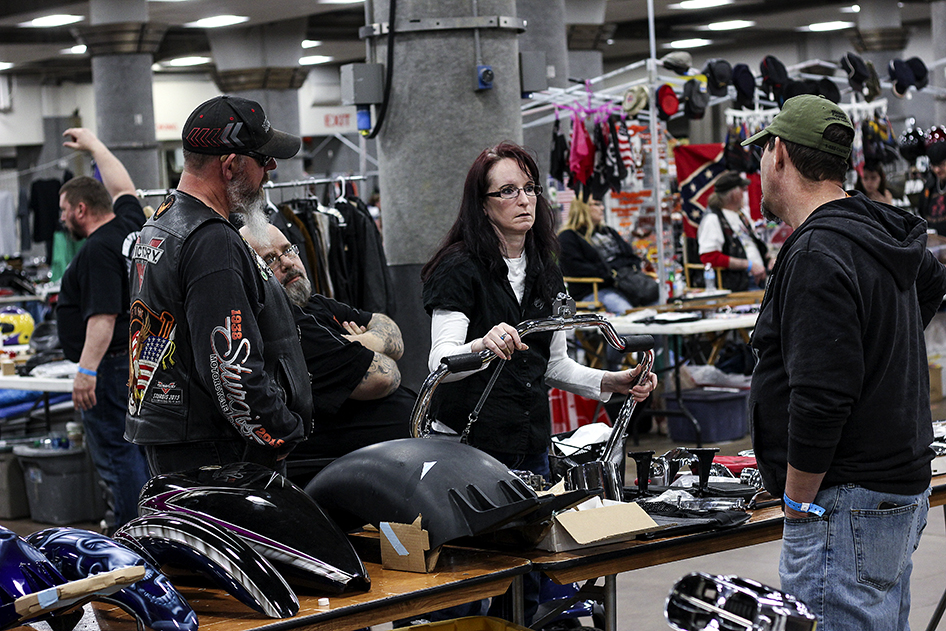 For the first time ever, early bird ticket holders got entry into the swap meet an hour ahead of everyone else to get first dibs on the best parts.
Car Show
A ride up the escalator from the parts swap brought you to the Roy Wilkins Auditorium, where you could drool over an eclectic collection of cars ranging from restored classics to lowriders and everything in between.
It was hard to walk in the room without this '56 Mack RB model immediately catching your eye. Tim Feidt totally outdid himself with this military tribute vehicle. It was equipped with a Dodge Cummins diesel turbo motor, 4 airbags on the suspension, super single wheels and color-changing lights.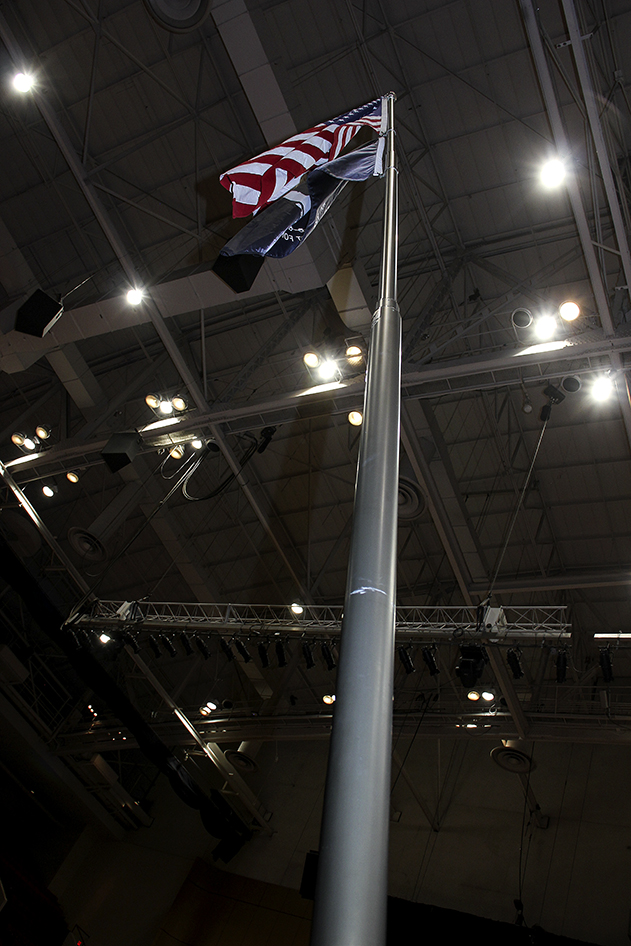 Sure, you could use its 5th wheel hitch to hook up a trailer, why do that when you could put a flagpole with an American flag on the back?
We asked the little old man sitting next to Dave Kalina's '69 Mustang if he could tell us a little more about it, but he didn't have much to say. Luckily a car like this truly speaks for itself.
"Roamin" was beautifully restored and given some mean modifications including Holley Terminator EFI turbo, Flowmaster dual engine exhaust, front and rear spoilers, hood scoop, rear window louvers, sport mirrors and a lowered suspension. It took home 2nd place in the Original Car Class.
Big things came in small packages with this '89 Chevy C1500 from Jeff Jurzynski. We're talkin' really big. This puppy was outfitted with a GM diesel engine and had a drive train so massive that the center of the cab had to be cut away in order to house it.
The truck's bark was just as big as its bite, too, thanks to a Kahlenberg air horn pulled from a ship named "Bessie" on Lake Superior.
Speaking of cool trucks, the show's 1st place winner in the Original Truck Class was this 1972 International Harvester Scout II brought to the show by Bill Linsmayer.

It's a good thing the keys weren't in the ignition, or we would've climbed right in and taken her for a spin.
From its signature bullet nose to its panoramic rear window and all parts in between, everything about this 1950 Studebaker was absolutely mint.

It was a real test of will to stop yourself from jumping the barrier and running your hands over these curves with this alluring yet understated lavender paint job.
Not many adults can say they own their very first car, but Terry Sullivan can. He got this exact '55 Bel Air in 1973 when he was 16 years old. After selling it in 1981, he probably never expected to see it again. But miraculously, he found it (same VIN!) and bought it back in 2015.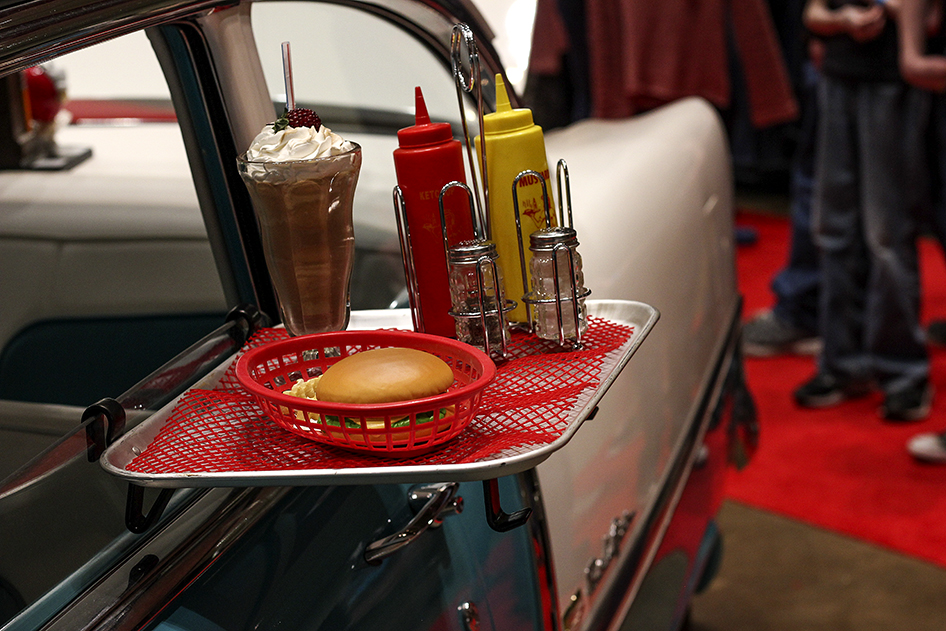 Terry had to make some extra space on this drive-in tray for his first place Chevrolet Classic award.
Norman Sugden's '65 Dodge Dragster has won some pretty prestigious awards before it took 1st in the Non-Street Class at the Donnie Smith Car Show. It was the NHRA's first top fuel World Champion in 1965.
This iconic drag racer set the NHRA record at 194.80 MPH thanks to its 345 cu. in. Chrysler Hemi that's supercharged and fuel injected on nitromethane.
A group of students from Henry Sibley High School in Mendota Heights, MN got special recognition during the awards ceremony for this car modeled after a 1930s Ford Coupe that they built over the course of seven months.
We wish them luck as they take the car to the MTEEA Supermileage contest in May at Brainerd International Raceway to compete against nearly 100 cars from all over the region and Canada. Henry Sibley won the contest last year with a 6-mile run at 487 MPG.
Budweiser Happy Hour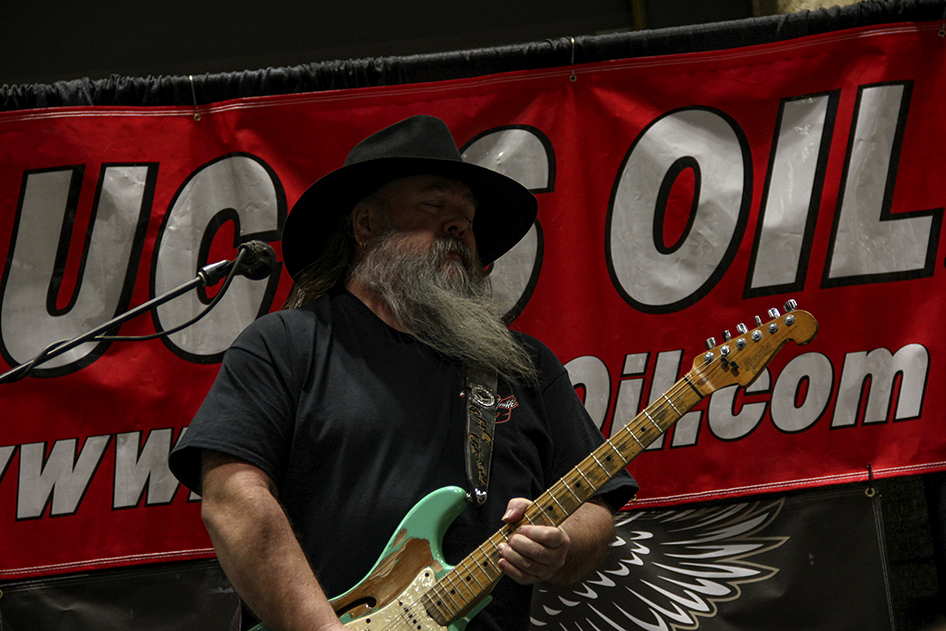 Of course, it wouldn't have been a gathering of hogs without some pork. Everyone got a heaping helping of down-home biker blues from Porkchop during Happy Hour on Saturday evening.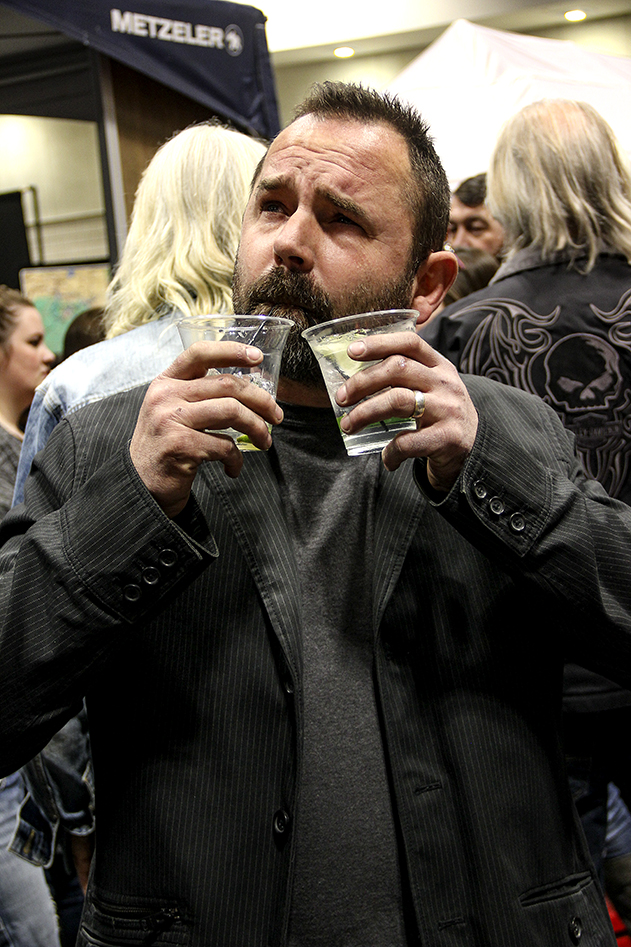 Everyone at the show had something to celebrate, and the tasty tunes helped ramp up the party. Builders raised a glass (or two) to commemorate jobs well done and all the enthusiasts took the opportunity to ring in riding season.
Cheers! Overall, this year's show was a huge success that wouldn't have been possible without the efforts and presence of many. Special thanks to Dennis Kirk, Lucas Oil, State Farm, Budweiser, Metzeler Tire, and the Sturgis Buffalo Chip for sponsoring!
We're already making plans for next year, and we hope you can join us. Mark your calendars for the 2020 Donnie Smith Bike and Car Show, March 21 and 22, 2020 at the Saint Paul RiverCentre.
Until then, to stay up to date with everything related to the show, be sure to sign up for the Donnie Smith Show newsletter.